TRAINING INFORMATION

​Due to our busy schedule training has drastically reduced. When contacting us please be prepared to be put on a waiting list. Thank you!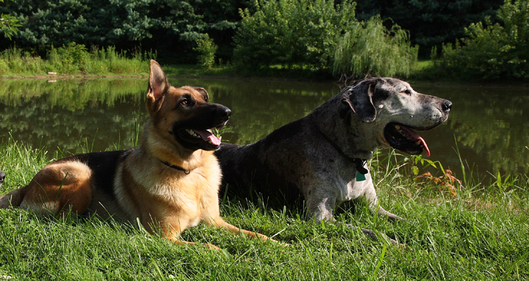 Why should we train our dogs?

Training dogs, or better, communicating with our animals is very important. Through our body language, voice and actions we often do without being aware of it. Unfortunately these signals can sometimes be misunderstood by our companions.

The courses offered by Quick's Pooch Plaza are designed to eliminate all miscommunication and help owners and their dogs to bring happiness & harmony into every day life.

Click here to download the class entry form.

With positive, patient and consistent methods you will be shown techniques to turn your dogs behavior around.

Group Obedience lessons
Held at the QPP training facility in Evansville/IN and various public places.
Private Obedience lessons
Available at the QPP facility, various park locations and at your home. Each lesson is tailored to you and your dogs individual needs.

Socialization Work (MiP)

Once the Basic Commands are achieved it is time to try them out in public. These classes are designed to introduce the dog to various situations and locations... manners in public!





In-House (Purr-fect Puppy) Training

This training offers busy owners a well adjusted puppy. The dog will be boarded and worked with on daily bases. Depending on the duration of the stay the pup can be potty trained, leash broke, learn basic commands, socialized, crate and/or pen trained, and get a great start in life towards becoming a well mannered member of society.





In-house training is also available for older dogs with any problem behavior. Please call or email for further information.




---