TESTIMONIALS
Shannon with Marley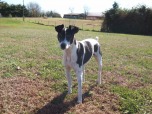 AWESOME! We love the pics! Very comforting knowing there is a really great (!) kennel in town. Especially knowing its someone who loves dogs – because as you know – there are an incredible number of kennels out there that are scary and very sad places to leave your dog. We will certainly be in touch in the future!!
---
Barbara with Rocky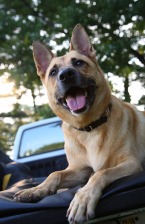 HAND ME DOWN DOG

He came from an older couple that had tried to save a litter that was dumped in a mined area. Rocky (the name I gave him) was the only survivor. The first year of life he spent chained to a tree in the backyard without socialization or any training, he overwhelmed the older couple. Because the 2 needed to move to a place that could not accommodate a dog he needed a home. All other leads came to an end and the only option wasn't good. I had seen him across the neighbor's yard for a year, I knew of their plight to find a home for the energetic pup. I had a houseful of rescued animals already, what I did not want was a 50 pound wild dog...but I took him.

Since Rocky had been tied through out his early years he ran in circles (not straight lines) the first time I introduced him to my fenced backyard. I tried several training sources to help me with my wild child, but few paned out. Finally I heard of O'Nan's K-9 Academy and I took it as a last resort. Amy showed amazing patience with me and Rocky, who one Saturday on the way over to class took a plug out of the seat in my new car. Amy taught me to stay calm, maintain body language (dogs read these things) and give clear, concise, consistent directions. Rocky (now 75 pounds) has come so far, as to be able to become a Canine Good Citizen, do Rally Obedience and is registered to participate in Agility competitions next year- who knows what he will be able to do in the future. All of this is due to the great guidance from Amy.
---
Jim & Mary with Shelby & Lucy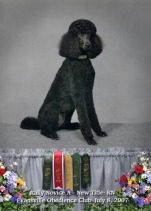 Five years ago my husband Jim and I lost our miniature poodle. She was a wonderful dog and had a very easy going and sweet nature. We both loved the poodle breed but were considering a larger dog so after some research we settled on a Standard Poodle Puppy. We enjoyed that Standard Poodle breed so much that we soon added a second Standard Poodle to our family.
Our Standards are great dogs however; their temperament was completely different than our miniature poodle. The standards were very energetic a little headstrong and complete clowns. They were very eager to learn and did well in basic obedience but we realized that we wanted and needed to expose them to more than just basic obedience. We enrolled our dogs in obedience, agility and most recently rally obedience training with Amy.
Selecting the right trainer for you and your dog is very important. Over the years we have had the opportunity to witness Amy's training ability first hand and have seen her work wonders with owners and dogs with different temperament and problems. Whether the dog is nervous, fearful, or aggressive she is able to quickly size up the problem and work with the owner to correct the behavior. She is also a great coach for the dog owner, including those who may be frustrated or confused by the dog's behavior, and gives appropriate instruction on how to approach the situation.
We would highly recommend Amy Quick if you are looking for a dog trainer who will help you build a foundation for a great relationship with your dogs.
---
Cheryl with Alley
Amy-
Through your outstanding help in Obedience and Agility training Alley has just blossomed over the last year. She has truly gone from a fearful, shy little pooch to an outgoing, friendly, confident dog. I really value everything we have learned from you and look forward to continuing with our training. Alley certainly would not be the happy dog she is today without your help.

Thank you!!

---
Donna with Smidgen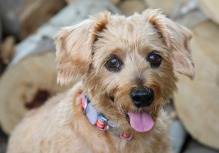 My dog Smidgen and I have had the privilege of working with Amy for some time. We started Puppy Obedience when my Dachshund was 5 mo. Old. She loved training and did very well. We continued with Basic Obedience at 1 yr. and started Agility training 3 mo. later. The training has been positive and fun.
I have seen Amy work with many dogs. She can teach an owner how to control or change any behavior. I know owners of formally timid, shy dogs who now enjoy Agility and Obedience with their dogs. I have also seen dogs that were labeled aggressive work and play safely with other dogs. Amy works hard to teach owners how to get the best from their dogs. She shows endless patience with both dogs and owners. When teaching new skills, Amy searches continually for fun easy methods to achieve the desired result.
Smidgen is now 9 years old. She continues to enjoy Agility and Rally Obedience. She has recently become certified as a pet therapy dog and has started to work wonders with hospitalized and rehabilitation patients.

I believe that without Amy Smidgen would not be the happy, healthy and well-rounded dog that she is. I hope to continue our association for some time to come.


---
Bill & Renea with Elsa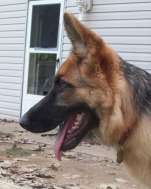 (1 week after pick-up) Amy -- wow wow wow! Thank you for all your work with Elsa. After her In-Home Training with you her "manners" are so much better! In the last 2 days we have had visitors at our house and even though I went out when they arrived (only to take care of Elsa jumping on them) she did wonderful. She did try to at first but I told her "no" and she then walked away and left them alone. One was even holding a toddler. :) Also we have a pet gate in the house that she use to jump on and she hasn't jumped yet!! She seems a lot more "calm". Thank you again for working with us! I can not imagine doing this on my own. Thanks for all your guidance and insight.

(2 weeks after pick-up) You would have been proud of Elsa! She did so so good. We had 85 people here (including about 35 kids of all ages) and she did not bother them at all. She let people pet her and walk her in the yard (with out the pinch collar). By the end of the night she was in the barn sleeping while about 20 people played bean bags. I was so so proud of her!! Before the party we went on about a 3 mile run and we did 20 min of OB . Thanks a million for all your hard work -- it is paying off!!


---
Quick's Pooch Plaza
7417 Old Boonville Hwy. - Evansville/ IN 47715
phone: 812.474.0215