IN-HOUSE TRAINING
Another option for the busy dog owner. Have your dog trained by us while you are on vacation or simply because you'd like improved manners but your time is limited.

Let your dog get worked while being boarded!
We tackle everything from shyness to aggression.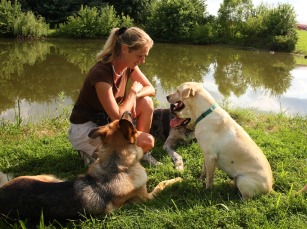 Dogs love to come to the Plaza because of the structured routines, attention and playtimes they are getting but some dogs can use more...

At QPP we offer 2, 4 and 6 week boarding programs in which the pup will learn basic or advanced rules to live well within family lives & society. No matter what the problem or if the care of the 4-legged family addition seems simply overpowering at times- we can help!

Purr-fect Puppy training
As soon as your pup enters your household they will start learning. This can sometimes be overwhelming for new owners. Today's hectic schedules don't always allow time for proper potty training, dealing with pup's teething, or working on socializing pooch.
Working with the puppy (up to 6 Mon. of age) on daily bases, potty training, leash braking, socialization, proper crate and/or pen training, mannered car rides, table etiquette, and much more can be achieved through this program. In addition you will receive all necessary puppy information (health, exercise, training, grooming and nutrition) including problem prevention to keep pooch on the right track.

Lets teach our young dogs a brand new foreign language- ENGLISH! They can learn basic commands (Sit, stay, come, down, kennel, out, no, etc.) early on in live while forming a strong bond in a playful way. This offer is designed to help busy pet owners and give your pup a great head start-

...for a harmonic life within the family and in society.
---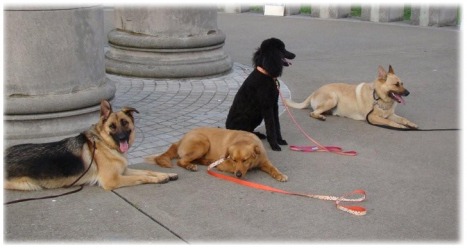 Quick's Pooch Plaza