GROUP LESSONS
Exercises in these classes will vary according to the level of the offered course. Groups are kept small to ensure everybody's benefit!


Group Obedience
(Basic, Intermediate, Advanced and Rally)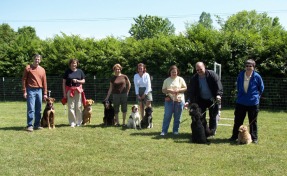 Obedience Group lessons are casual and fun! They give owners a chance to gain confidence in controlling their pups around other people and their dogs.
$20.00 - 1hr.
---
Manner's in Public (MiP)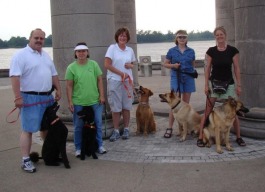 Once the Basic Commands are achieved it is time to try them out in public. These classes are designed to introduce the dog to various situations and locations... manners in public!
$25.00 - 1.5 hrs.
Any "bad habits" from shyness to aggression can be tackled. Some examples would be chasing vehicles, barking at strangers, fear biting, being uncomfortable when loud noises occur, separation anxiety, etc.
All courses are designed to balance a dogs temperament and create a well behaved member of society.
---




Quick's Pooch Plaza